As the popularity of the silicone implant has risen, the number of women choosing a saline implant for breast augmentation has slowly declined. Boasting a more natural look and feel, women were apt to opt for silicone. However, concerned with the safety of silicone, some women have remained hesitant to accept silicone. At his clinics, Dr. Bachelor has found that many women are apprehensive to choose silicone—for this reason, we are pleased to announce a new alternative, the IDEAL IMPLANT®.
The Birth of the IDEAL IMPLANT
In his practice, plastic surgeon Dr. Robert S. Hamas experienced a backlash from women over this same issue. As he listened to his patient's concerns, Dr. Hamas "began to realize how much women were bothered by not knowing the status of their implants". Continuing, he emphasizes that "it is really an emotional issue for women. I felt there had to be a better type of breast implant". With this in mind, Dr. Hamas undertook the task to create an implant that combined the natural feel of silicone with the safety and peace of mind of saline.
His inspiration came at an unlikely moment. Experiencing turbulence during a flight, Dr. Hamas recalls, "the ice in my drink kept it from sloshing, so it made me think of putting something inside a saline implant to keep it from sloshing"—and, that he did.
Made with Saline, Feels like You
The IDEAL IMPLANT is "like nesting Russian dolls" in that the implant has an inner shell around the inner chamber, which holds the inner saline filler, and an outer shell around the outer chamber, which holds the outer saline filler. Between these shells are one to three "baffle" shells (the bigger the implant, the more baffles).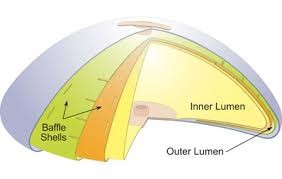 The IDEAL IMPLANT acts opposite in comparison to a traditional saline implant. The structured breast implant's internal structure was specially designed to control the movement of the saline inside. The unique makeup also gives the IDEAL IMPLANT its natural feel.
Be Confident with IDEAL IMPLANT
With the IDEAL IMPLANT, women are given the opportunity to have an implant with the look and feel of silicone without the associated worry. For many of our patients, this is just the peace of mind they have longed for when choosing their implant.