Arm Lift
Consultations offered at our two convenient locations in Danville and Pleasanton
Raising your hand is a liberating act. You deserve to be seen, your voice demands attention, and you should wave to the world without a second thought. But when your arms are heavy or sagging, inhibitions can prevent you from expressing yourself openly. You may shy away from certain situations, hide your arms from view, and generally shrink from the spotlight.
But Dr. Eric Bachelor can raise your spirits with an arm lift surgery, also known as a brachioplasty. With convenient locations in Danville and Pleasanton, California, Dr. Bachelor serves the surrounding communities with dedication and professionalism. To learn how the experts at East Bay Aesthetic Surgery can transform your upper arms from slack to striking, schedule a consultation with us soon!
What Is Brachioplasty?
People are often insecure about their arms, especially after changes in body weight. Fortunately, "bat wing" arms are treatable with brachioplasty, a surgical procedure that tightens and tones the upper arms. Here in the Bay Area, we can perform brachioplasty and give your arms a slimmer and more toned appearance.
Dr. Bachelor will make a careful, discreet incision along the inner hidden contours of the arm. This incision allows the doctor to access the inner fat and connective tissue without creating an outwardly visible scar.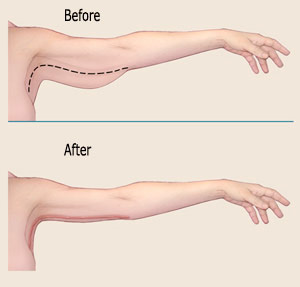 Every brachioplasty is unique. The surgical methods differ, depending on the nature of each patient's anatomy. If an individual struggles with excess fat stores in their upper arms, then their surgery will probably entail liposuction. Dr. Bachelor can insert a cannula, or thin vacuum tube, in the posteromedial region of the arm to remove unwanted fat. The cannula contours as it works its way through the delicate yet resilient anatomy of the upper arm.
In addition to removing excess fat, Dr. Bachelor can simultaneously tighten the skin along your upper arms. When you lose weight, your skin can become loose and lifeless. Your body might not rebound from weight fluctuations as easily as it did in your youth. As we age, our skin loses elasticity as a result of decreased collagen production. Collagen is the protein that supports cell growth and replaces dead skin with newer, healthier skin.
In older arms ptosis may set in.[1] Ptosis is the natural process of sagging that often weighs down certain body parts like breasts, neck, and even eyebrows. When the upper arms experience ptosis, brachioplasty may be the ideal solution. Dr. Bachelor can assess your physique and determine the right strategy for you.
Before and After Photos
Benefits of Brachioplasty
Happiness comes in many forms: psychological, physical, and emotional. To check all of these boxes, take stock of your happiness and embrace every opportunity to improve yourself. If excess fat and skin are preventing you from being as content as you could be, then consider the benefits of an arm lift. These include the following:
Slimmer and more toned arms
A more balanced shape after weight loss
Improved self-confidence when wearing sleeveless clothing
Candidates for an Arm Lift
If you feel self-conscious about your arms, you may be a good candidate for arm lift surgery in Pleasanton & Danville CA. It's important to note that brachioplasty creates a scar on the inner part of each arm; therefore, an ideal candidate for the surgery will be willing to accept this post-operative scarring in exchange for a more slender and toned arm shape. New techniques may allow some patients to undergo arm reduction without a significant visible scar.
Book a Personal Consultation in the Bay Area
If you're interested in brachioplasty, we encourage you to visit Dr. Bachelor for a personal consultation. Dr. Bachelor provides the highest quality care in arm lift surgery. Our staff will treat you like a family member or friend. During a consultation, we can answer your questions and discuss arm lift treatments in detail.
We see patients from all over California and the U.S. Many of Dr. Bachelor's patients come from the Bay area, but also from the Tri-valley area and beyond, including Lafayette, Alamo, Walnut Creek, Danville, Dublin, Pleasanton, Livermore, Palo Alto, Mountain View, and San Jose. Dr. Bachelor is eager to listen to your aesthetic goals so he can strategize the best plan for your needs. Communication is the cornerstone of healthcare, which is why Dr. Bachelor appreciates the opportunity to connect with the greater Bay Area community through our blog. Take a look and get a glimpse of how we think and who we are.
Preparation for an Arm Lift
During your individualized consultation, Dr. Bachelor will provide you with a list of any medications you might need. Please fill these prescriptions prior to your brachioplasty surgery date. You should also arrange for a friend or family member to transport you to and from our clinic on the day of your procedure.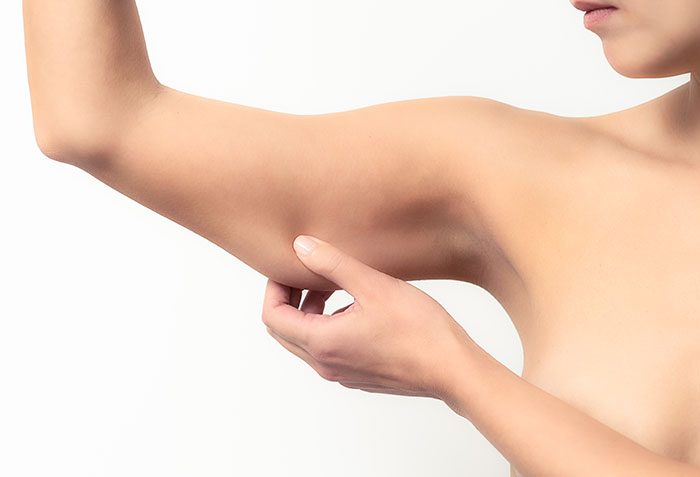 In the weeks leading up to an arm lift, it is advisable to quit smoking so that you can promote ideal circulation. Tobacco and nicotine deteriorate your general wellness and resilience. We want you to be healthy enough to enjoy the vibrant benefits of your upcoming brachioplasty.
The Brachioplasty Procedure
Brachioplasty is typically performed after major weight loss, when loose skin appears on many different areas of the body. In other cases, the surgery removes stubborn fat on the upper arms that does not respond to diet and exercise.
As an outpatient procedure, brachioplasty is performed with general anesthesia, so you sleep through the operation.
We will tailor the incision to meet your needs. Many arm lifts require a small incision on each arm that is concealed near the armpit. In other cases, incisions are placed in the inner part of the arm and extend from the armpit toward the elbow.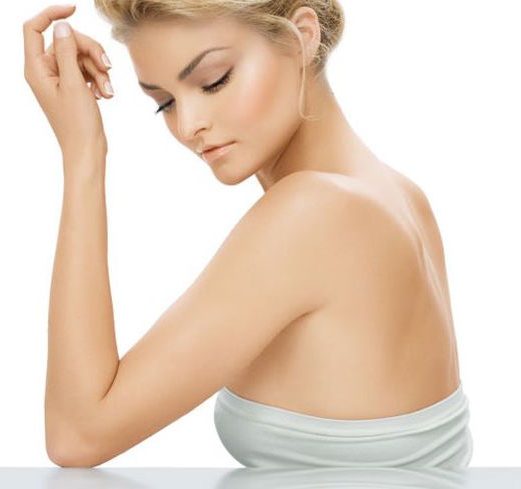 Brachioplasty is a delicate procedure. Layers of fat deposits and muscle intertwine throughout the upper arms. Connective tissue called fascia, consisting largely of collagen, separates the layers of fat and other tissue in our bodies.[2] This fascia must be treated with extreme care and consideration. If it is not reduced enough, the arms will continue to slump, creating a "hammock" effect. If the fascia is pulled too tight, it may inhibit a patient's range of motion. Fortunately, Dr. Bachelor is an expert at contouring upper arm tissue.
Recovery and Risks
As with all surgical procedures, an arm lift has risks associated with it. Potential adverse events include infection, asymmetry, changes in sensitivity, excessive scarring and irregular appearance. All of these risks will be reviewed in detail during your initial consultation.
After surgery, we apply gauze, bandages and an elastic garment to the arms. You will experience some bruising, swelling and discomfort for a couple of weeks. Take prescription pain medication and elevate the arms as directed to manage discomfort.
Recovery times vary, but you should be able to resume your normal routine in 7-10 days.
The stitches will also be removed at this time, but you'll need to postpone strenuous activities for a month. Although we take care to place incisions in discrete locations, scarring is a normal result of this procedure. The scars will appear raised and pink or brown during several months of recovery, and they will gradually flatten and fade over 18 months.
Remarkable Results
Just as your recovery progresses, so too does the emergence of your slim, sleek new profile. Very soon after your procedure, you will enjoy the reduction of bulk encircling your upper arms. Over the course of the next few days, the swelling will subside to further emphasize your stunning new contours. After about two months, you can enjoy the full benefits of your brachioplasty, and you can welcome the world with a confident wave of your arms!
Complementary Procedures
Just as Dr. Bachelor can transform your upper body, he can also provide your backside a boost. His buttock lift procedure improves the size, shape, and contours of your derriere by removing unwanted fat and repositioning your rear-end. If excess belly bulk is more of a concern for you, then consider a tummy tuck in the Bay Area. Regardless of your specific aesthetic desires, Dr. Bachelor can deliver tremendous results.
FAQ
How much does an arm lift cost in the Bay Area?
Each patient is unique and every procedure must be tailored to their needs. If you are considering brachioplasty in the Bay Area, contact Dr. Bachelor and ask how he can lift your arms and your hope!
Is brachioplasty safe?
Yes, under the skilled eye and steady hand of Dr. Eric Bachelor, arm lift procedures are safe and effective. Call 925-462-3700 to learn how Dr. Bachelor and his skilled staff can help realize your aesthetic dreams.
References
Strauch, B., Greenspun, D., Levine, J., Baum, T. (2004). A Technique of Brachioplasty. Plastic and Reconstructive Surgery: 113(3):1044-1048. doi: 10.1097/01.PRS.0000105648.54174.11
Lockwood, T. (1995). Brachioplasty with superficial fascial system suspension. Plastic and Reconstructive Surgery. 96(4):912-920. DOI: 10.1097/00006534-199509001-00022
Our Offices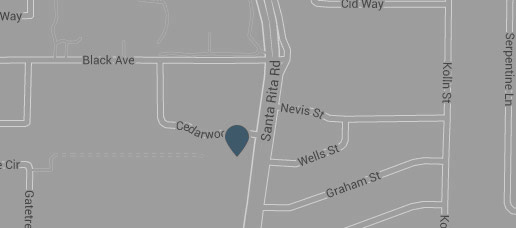 1387 Santa Rita Rd
Pleasanton, CA 94566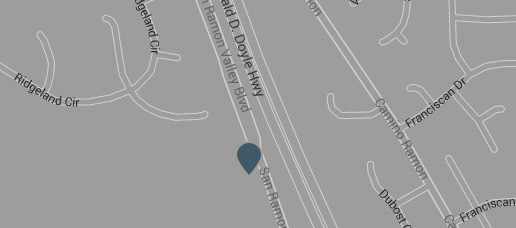 919 San Ramon Valley Blvd #150
Danville, CA 94526